Day Two: The Search for Bygone Theaters
We started off the day by heading out for breakfast at The Original Pancake House on Bellevue Place. Kay got an egg-white omelette that was made with egg whites whipped to the consistency of meringue (I tried a bite, and even though I don't like eggs, I liked this omelette). I, on the other hand, got the apple pancake: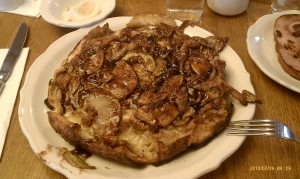 This thing was AMAZING.  It wasn't like the buttermilk pancakes I'm used to everyplace else–it had a custardy texture, and it was covered with a piping hot mass of thinly sliced green apples with a cinnamon sauce.
After we finished breakfast, we got ourselves our 7-day CTA passes and hopped on the Red Line to take a walk down memory lane.  We got off at 35th/Sox and walked over to the new Comiskey Park U.S Cellular Field, where we looked at their World Series monument… of course, it's a little sad that there are teams for whom World Series championships are so unique they build monuments to the ones they have–perhaps the Yankees shouldn't hog a quarter of them…  nah, where's the fun in that?
Where was I?  Oh, right, White Sox stadium. After that, Kay and I wandered over to IIT, where we stayed the first time we came to Chicago as a couple.  We walked by the dorm we stayed in, found a water fountain to refill the Nalgene bottle, and then hopped on the Green Line to head up to the north side.
Once we got off the El, we went in search of an address.  The street had changed names from Crawford to Pulaski, but we think we found the site.  Even though we know the theater we were looking for had been torn down in the 50s, it was a little sad to see that whatever had been constructed in its stead had been recently torn down. (If I'm being a little confusing, it's because Kay's not talking publicly about the project she's working on, so I can't just come out and say what theater this is she's researching.)
A little disheartened, we came back to downtown Chicago, grabbed some subs and had a late lunch. I also grabbed a half-hour nap, because I'd been falling asleep on the El.
Once Kay was able to rouse me and get me out the door, we went looking for a beach. We found one at Navy Pier, but we couldn't find anyplace to change clothes (and then it started to sprinkle rain), so we walked back and went to the firsts spot we had on our wedding registry: Giordano's.
We weren't able to settle on a pizza quickly enough to put in a pre-order, so we ordered our spinach deep-dish as soon as we got to the table (for those of you not familiar with how Giordano's does things, they hand you a menu as you wait for your table and you can put in your dinner order before you even get seated). After a really long wait, we finally got our pie: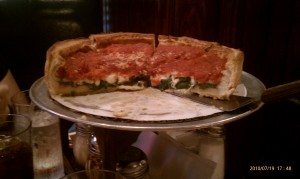 It was delicious.  I wanted to eat my three pieces in one sitting at the restaurant, but Kay made me save room for dessert (we wound up taking the two remaining pieces back to the room and then heading out to a Mrs. Fields that we'd visited on our last day in Chicago when we were here back in 2008).  I wound up eating that third piece while I was writing this post. 🙂
While we were waiting for the pizza, though, Kay made a discovery.  Chicago has two zoos.  We were planning on going to the Brookfield Zoo tomorrow, but Kay found a review of a cupcake bakery that made reference to the Lincoln Park Zoo, which is right in Chicago, only 15 minutes away by bus, and free.
This placed me in an extreme conundrum. Naturally, if left to my own devices, I'd go to the Brookfield Zoo one day, the Lincoln Park Zoo the next, and hit the Shedd Aquarium and the Field Museum for good measure. However, honeymoons are supposed to be fun for BOTH members of the couple, and I would feel bad dragging Kay off to zoos and aquariums every day of our honeymoon (though, she does confess that she likes aquariums, so we might go to the Shedd rather than go to the Field). So, I spent the rest of the evening trying to pick between the Brookfield and the Lincoln Park zoos.  I think I'm going to stick with the Brookfield Zoo for a few reasons: it's open a half-hour earlier and closes an hour later, so we'll have more zoo time; it's much larger, so there aren't any animals in cages (Kay's depressed by animals in captivity in general, but cages are worse than open enclosures surrounded by moats), and they have a pair of golden lion tamarins running around loose in the trees! I feel really guilty, though, because Kay did score a real find in locating the Lincoln Park Zoo.
And that's it for the day. Kay and I are getting up early to hit the zoo right when it opens, so it's time to get to sleep.  Until tomorrow!
Related