kay
This user hasn't shared any profile information
Posts by kay
1
[ written 11:30pm CDT … ]
Feeling rather bittersweet tonight. It's hard to believe we're heading home tomorrow. Guess that means it's really complete now, yes? And I don't just mean the honeymoon. We've been on a bit of a crazy tilt-a-whirl for most of this year between wedding saving, planning, scheduling and… oh yeah. The same set of tasks for this lovely 7 day Chicago excursion.
But we got through all of it and now we can (sort of?) relax!
It hit me tonight while we were out on the last major planned event- a sunset cruise on Lake Michigan. Looking back at the Chicago skyline made me so happy. I didn't want it to end. I have told Packy many times that I would want nothing else in life if I could own a home on a lake and swim in/boat on/relax by that lake every day (excluding the summer months when that would be somewhat ill-advised, I suppose… an iced-over pond does not a relaxing swim make).
And… okay, I suppose it's not just the pond. I've oft talked about a pony… and an estate…
But that's for another time, isn't it?! 🙂
I kid. (Though if anyone has a spare pony laying about, email me! lol)

[ continued 8:16am CDT … ]
Aaaaalmost done packing now. Thanks again for all of your generous contributions to the honeymoon fund to make this entire excursion happen, friends! It's been a wonderfully memorable week and we couldn't have done this without you!
OH! A note for ya: Even though the honeymoon is over, keep checking back in here over the next few days. We have a LOT of pictures that still need uploading, plus I'm sure Packy still has a final journal entry or two to contribute.
And of course the big plus about the lovely creation known as "INTERNET" is that you can come back and visit this website any time you want! It'll be here. Heck, any time I want to relive bits of my honeymoon, all I have to do is pull up this site and read away… rolling my eyes at my grammar mistakes… slight spelling gaffes…
Whoops! Being pulled out the door!
Again- THANK YOU THANK YOU!!!!!!!!
0
Okay, I don't have much time to write since Packy and I are about to hit the beach… then Wrigley Field for the afternoon Cubs game… then god knows where, then god knows where else–
Oh. Sorry. Wrong thing. It's just… you know. 😉
Anyway, I just wanted to mention that I put up my photos from the CHICAGO Theater tour yesterday. Since I'm still working on a top-secret project that this is related to, I'll only say that yesterday's tour was MUCHO inspiring and, quite frankly, the best thing I could have done for my work. Balaban & Katz sure knew how to make a HECK of a gorgeous theater. I wish more people appreciated the craftsmanship that went in to creating these gorgeous old buildings. Sometimes the show isn't only on the stage, you know.
Next time you visit an old theater to see a show… look around you a bit, eh? That's my word of wisdom for the day.
– ON TO THE PHOTOS! –
7/22/10 Touring the CHICAGO Theatre (more…)
0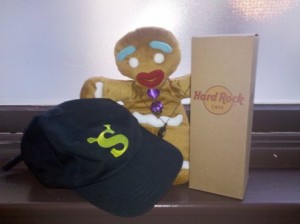 Welp, after a full day spent taking in the flora and fauna of a 'burban zoo, today was back to downtown Chicago and that oh-so-special place known as… TOURISTLAND!
Okay, not entirely. I may do ridiculously touristy things from time to time, (ask Packy and watch him shudder) but I always try to mix something local and unique in there to balance it out.
Today the "Local Flavor" category was quite literally flavor- of the diner variety. See, Packy and I are big fans of a little show on the Food Network you may have heard of- Diners, Drive-Ins and Dives. The show is hosted by Guy Fieri, a man who is both a professional chef/restaurant owner in his own right and the biggest Average Joe-type "foodie" you've ever met. They say you know you're in the right profession if, after years and years in the field, you can still find aspects of your job which genuinely excite you. If Guy's reactions to the places he visits on "triple-D" are any indication, he's not only in the right career- he's downright ecstatic about it.
Anyway, today Packy and I visited a spot on the west side of Chicago that Guy went to this past season- The Depot American Diner. Though I sorta thought the "small diner" thing was played up for TV, I can tell you that they weren't kiddin'… this place is TEEENY. It actually may have been a very good thing that Packy and I got on the wrong L line and went a few blocks in the wrong direction. Had we arrived at this place during the breakfast rush we would have most certainly been waiting for a table. Don't think size is an indication of quality, though. To borrow an over-borrowed expression, great things come in small packages!
Check this out: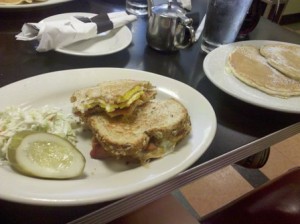 Killer egg sandwich. I probably didn't need the short stack of pancakes beside it- the sandwich was waaaaay more than enough to fill me up. And that bread didn't mess around, it was AWESOME. When I ask for "whole wheat" I'm used to that meaning whatever was grabbed from the shelves at a supermarket- refined flour and bleached whatever. Blech. THIS, my friends was WHOLE WHEAT, GRAIN bread. Delicious.
But moving along… our next stop of the day was to a 2pm matinee of a little show that Packy and I saw together on Broadway for his birthday in December of 2008. Yes friends, I don't care how sick the rest of the world if of the Shrek franchise, the two of us love that green ogre. My general opinion of SHREK THE MUSICAL when we saw it two years ago was that, overall it's cute… but it could have been so much more. Kind of a missed opportunity. The book is okay (borrowing heavily from the movie for it's best laughs), but the score is a little underwhelming. The best songs were written for Fiona, hands down. Donkey has a couple cool songs and Shrek has a great solo number in Act Two, but there's a whole lot of "ho-hum" in between.
WARNING: THEATER PERSON RANT AHEAD!!!
The production playing here in Chicago at the Cadillac Palace Theater is "newly revised" according to advance press, which was enough to make me curious. Going in, I knew they had changed a few things- the biggest being the big puppet "Dragon" for Donkey to interact with. What I didn't realize was that they have replaced a song, substantially rewritten large chunks of the book and in many ways just overhauled the show in general. I won't catalog each and every change here, but things still hold together well. Is the NEW SHREK! a revelation? Not especially. There are still some weaknesses, particularly in Act One. Also, (and this hurts me to say since I hate people who compare "new cast" vs. "old cast") I found myself greatly missing Brian D'Arcy James- the original Shrek on Broadway. Simply put, Brian managed to completely, 100% transform himself in to the guy (with a little help from the ol' makeup department, of course) and I never once balked at the portrayal. His Scottish accent was dead-on and he made Shrek the kind of "heart on his sleeve", "bark worse than his bite" fellow that audiences expect. Eric Peterson… well, let's just say that Alan Mingo Jr. as Donkey COMPLETELY walked away with the show today. Every scene he was in was brilliant. The musical works best when Shrek is able to parry Donkey's sideman antics… and, I'm sorry but Eric Peterson as Shrek let Alan walk all over him. Eric had some nice moments, but he needs work. Also, the accent was a bit patchy and that was very jarring.
For the record… Haven Burton as Fiona was adorable. She seemed to have a bit of the "matinee sluggishness" going on at the very start of the show, but she picked up pretty quickly and was on fire by the end of Act One.
My mini New York theater critic is done now. Promise. 🙂
THEATER PERSON RANT COMPLETED!!!!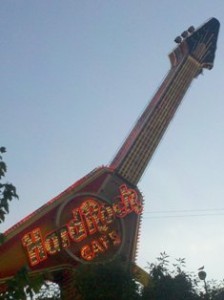 Post-show I decided to fully embrace the tourist end to the day by heading over to the Hard Rock Cafe for dinner. Yes, it's ridiculously over-priced and the definition of a tourist trap, but I was just in the mood I guess. I did it for the sake of saying I went and picked up some HR swag at the end to seal the deal. Food was very good… not the best I've had so far on the trip, but tasty. Honestly, for the prices you pay at the Hard Rock you can have a good three meals elsewhere at other local spots with just as good (perhaps even better?) food. But for the experience, sometimes you just have to crack open the wallet and embrace the tourism around you. I mean, I can now say that I ate macaroni & cheese next to Mick Jagger's pants. That's worth it… uhh… right?
Aaaaanyway, I should wrap this up. Packy is snoring peacefully beside me in bed and we have a full Thursday coming up. To preview the big event? Those of you who listen to NPR, keep your ears peeled during "Wait, Wait… Don't Tell Me" this Saturday. Pack and I will be in the audience at tomorrow's taping!
0
So, today was Packy's day to plan the itinerary. His most excellent choice was to spend our time wandering around the Brookfield Zoo. Instead of writing a long, rambling blog entry about the day, I decided to do a photo blog tonight… and let the pictures do the talkin'!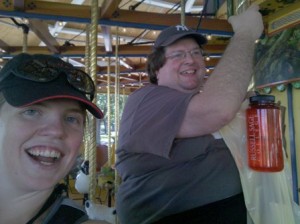 [ click on image to see the shots! ]
0
In 2004 I was lucky enough to spend some time studying theater in England. It was one of the most amazing experiences of my life, but the hassle of traveling that far was also *hella* intimidating.
Why do I bring this up? Well, even though the trip was nerve-wracking at first, it also forever changed how I handle vacationing. Basically, I was fortunate enough to have the professor in charge of our England trip take me under his wing that first day in London and orient me in one marathon six hour session. I learned how to handle the London Tube ("underground" or "subway" to the rest of us), got my currency exchanged, learned the basic lay of the land, booked tickets to a few shows I really wanted to see *AND* arranged for a day trip to Liverpool, England… alllll in one shot.
Yes, I slept like a baby that night, but I didn't have any plans-related stress for the rest of the trip because I had been pushed to take care of it all early on. I also never got lost ONCE on the London Underground.
Thank you, Richard. From the bottom of my heart.
Anyway, that's basically what Packy and I spent today- our first full day in Chicago- doing. Not navigating London, but laying plans for the rest of our time in the good ol' Windy City.
Even though we visited here two years ago and already had *some* of that "getting the lay of the land" work done already as a result, there were still lots of things to figure out. We bought our 7-day train passes, located a great breakfast spot, found the closest beach, booked Cubs tickets and even squeezed in time for me to do some important "on location" research for the play I'm writing.
Oh, yeah. And we had a rather delicious deep dish dinner. Just sayin'.
Tomorrow is Packy's day to coordinate what we do… looking forward to getting a bit "wild"… and that's the only hint you're going to get. 😛
0
Hellooooo Friends!
Hmm. Somehow I feel like I should be saying something deep and profound in this, my first Chicago honeymoon blog. Well, so far we've, uhh… been driving.
A lot.
Seriously, though… I think the only truly proper way to start off is by taking yet another moment here to thank all of you who attended our wedding. It was simply wonderful to see just how many friends and family were able to make it out. Packy and I were talking earlier (I'm gonna guess around mile marker 150 or so? We're up to about 400 right now… tooooldja there was a lot of driving)
Anyway, the two of us were talking about just how happy we were with the ceremony and reception. We managed to be both traditional and decidedly UN-traditional, which is sorta how the two of us do everything else in our life. Our musical taste was VERY clearly on display- folk, the Beatles, Broadway, classic rock and more. Our geeky science fiction side showed up too with everything from a Tardis beside the wedding cake to the Star Wars Throne Room music that was played for the recessional, (tell me you caught that… please tell me you caught that!)
Looking back at the photos from the day and watching the video (thank you, Denise!) it seems we somehow managed to make all the individual pieces fit together and put on a heck of a show in the process. I kinda wish I'd been a guest! Hehe. Yes, I was warned about it by my married friends, but when you're in the middle of things at a wedding, they have this tendency to blur by you. I have a number of very CLEAR memories, of course… but there are also bits that sorta whipped by me at a zillion miles an hour. I think it's kinda inevitable.
Which is sort of an apt thing to be saying right now actually given the fact that we're currently driving through Pennsylvania. Lots of things whipping by. Lots of town names and businesses and people's homes… but, really, I wouldn't want it any other way. If I'm given the choice between flying to a destination or driving, I'll pick the car almost 100% of the time. It's not a phobia of heights or anything. It's wanting to remember things and- without getting too cliche here- wanting to take in the beautiful countryside of America.
I know. THIS coming from the girl who loves to complain about how friggin' WIDE Pennsylvania is. My friend Abi and I have this joke: "Pennsylvania is like quicksand. The harder you struggle to get out, the deeper you get stuck." At least, it can feel that way when you're driving I-80 the whole blessed way through.
(My relatives from PA are currently throwing things at the computer screen, I'm sure.)
But back to my point: I love road tripping. My Grandma Barber used to take me for long drives around Saratoga County as a little girl, so I've always had a soft spot in my heart for this sort of thing. Sure, we're going to have traveled nearly 800 miles from NJ to Chicago by the time we pull in to the Howard Johnson's tonight, but I wouldn't have it any other way. 🙂
Check in later. Again, wedding guests…. THANK YOU THANK YOU THANK YOU!!!
– Kay
0
One of our relatives wrote to us to say they had questions about the honeymoon registry, so I wrote back with the following:
The prices listed at our Honeyfund registry are generally "each" – ie: 2 tickets for Billy Elliot at $90 each. For things like the hotel, it's $65/night for both Packy and myself, so essentially each purchase of $65 will fund one night of our 7 night stay in Chicago.

For checkout, from the "Quantity" drop down menu beside each item you select to purchase however many of an item you wish. The total will be put in the cart for you. No paypal? No problem. After you've clicked 'continue' you will be taken to a page that gives you three options for checkout. Click on the icon for whichever method you choose- check (which you can mail or bring to the wedding), cash (which can be given to us directly at the wedding) or Paypal.

One of the best parts of Honeyfund is that, upon purchase, you can also select to print a 'certificate' for the couple which lists exactly what you purchased for them. You can stick this certificate in a card and give that to the couple on their wedding day. I really love the idea of guests being able to say that they contributed a *specific* part of the Honeymoon rather than just added their money to an anonymous collection of checks.

Hope this helps! Let me know if anything else is unclear! 🙂
I figured I'd post it to the blog in case anyone else had these questions.
0
It took a little research, but I finally found a honeymoon registry that a) didn't insist that Chicago isn't a "destination honeymoon" and I really wanted to go to Cancun or Aruba, and b) didn't charge an arm and a leg.
Then I ran across Honeyfund, specifically this page.  Once I saw that, I knew that was the site for us.
So go check out our honeymoon registry!
0
This video is for our friends who will be attending our wedding on April 17th. So, you wanted to know where we'd like to go on our honeymoon?
Here's the answer! We visited Chicago two summers ago and had an awesome time. We'd love to go back and spend some more time in the City of the Big Shoulders!
1
I just got off the phone with the Fairfield Inn, and not a single room has been booked out of our reservation block yet. They said that if people don't book rooms in another two weeks, we'll lose our block.
So, if you need a hotel room, you must call before March 26th or you'll wind up having to pay the regular rate!
kay's RSS Feed