0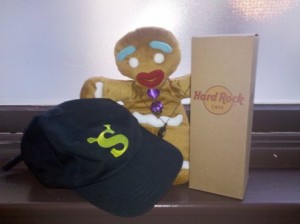 Welp, after a full day spent taking in the flora and fauna of a 'burban zoo, today was back to downtown Chicago and that oh-so-special place known as… TOURISTLAND!
Okay, not entirely. I may do ridiculously touristy things from time to time, (ask Packy and watch him shudder) but I always try to mix something local and unique in there to balance it out.
Today the "Local Flavor" category was quite literally flavor- of the diner variety. See, Packy and I are big fans of a little show on the Food Network you may have heard of- Diners, Drive-Ins and Dives. The show is hosted by Guy Fieri, a man who is both a professional chef/restaurant owner in his own right and the biggest Average Joe-type "foodie" you've ever met. They say you know you're in the right profession if, after years and years in the field, you can still find aspects of your job which genuinely excite you. If Guy's reactions to the places he visits on "triple-D" are any indication, he's not only in the right career- he's downright ecstatic about it.
Anyway, today Packy and I visited a spot on the west side of Chicago that Guy went to this past season- The Depot American Diner. Though I sorta thought the "small diner" thing was played up for TV, I can tell you that they weren't kiddin'… this place is TEEENY. It actually may have been a very good thing that Packy and I got on the wrong L line and went a few blocks in the wrong direction. Had we arrived at this place during the breakfast rush we would have most certainly been waiting for a table. Don't think size is an indication of quality, though. To borrow an over-borrowed expression, great things come in small packages!
Check this out: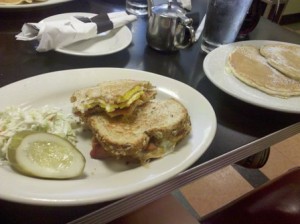 Killer egg sandwich. I probably didn't need the short stack of pancakes beside it- the sandwich was waaaaay more than enough to fill me up. And that bread didn't mess around, it was AWESOME. When I ask for "whole wheat" I'm used to that meaning whatever was grabbed from the shelves at a supermarket- refined flour and bleached whatever. Blech. THIS, my friends was WHOLE WHEAT, GRAIN bread. Delicious.
But moving along… our next stop of the day was to a 2pm matinee of a little show that Packy and I saw together on Broadway for his birthday in December of 2008. Yes friends, I don't care how sick the rest of the world if of the Shrek franchise, the two of us love that green ogre. My general opinion of SHREK THE MUSICAL when we saw it two years ago was that, overall it's cute… but it could have been so much more. Kind of a missed opportunity. The book is okay (borrowing heavily from the movie for it's best laughs), but the score is a little underwhelming. The best songs were written for Fiona, hands down. Donkey has a couple cool songs and Shrek has a great solo number in Act Two, but there's a whole lot of "ho-hum" in between.
WARNING: THEATER PERSON RANT AHEAD!!!
The production playing here in Chicago at the Cadillac Palace Theater is "newly revised" according to advance press, which was enough to make me curious. Going in, I knew they had changed a few things- the biggest being the big puppet "Dragon" for Donkey to interact with. What I didn't realize was that they have replaced a song, substantially rewritten large chunks of the book and in many ways just overhauled the show in general. I won't catalog each and every change here, but things still hold together well. Is the NEW SHREK! a revelation? Not especially. There are still some weaknesses, particularly in Act One. Also, (and this hurts me to say since I hate people who compare "new cast" vs. "old cast") I found myself greatly missing Brian D'Arcy James- the original Shrek on Broadway. Simply put, Brian managed to completely, 100% transform himself in to the guy (with a little help from the ol' makeup department, of course) and I never once balked at the portrayal. His Scottish accent was dead-on and he made Shrek the kind of "heart on his sleeve", "bark worse than his bite" fellow that audiences expect. Eric Peterson… well, let's just say that Alan Mingo Jr. as Donkey COMPLETELY walked away with the show today. Every scene he was in was brilliant. The musical works best when Shrek is able to parry Donkey's sideman antics… and, I'm sorry but Eric Peterson as Shrek let Alan walk all over him. Eric had some nice moments, but he needs work. Also, the accent was a bit patchy and that was very jarring.
For the record… Haven Burton as Fiona was adorable. She seemed to have a bit of the "matinee sluggishness" going on at the very start of the show, but she picked up pretty quickly and was on fire by the end of Act One.
My mini New York theater critic is done now. Promise. 🙂
THEATER PERSON RANT COMPLETED!!!!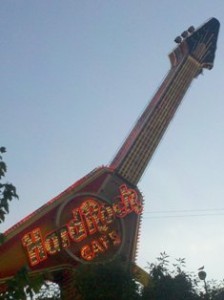 Post-show I decided to fully embrace the tourist end to the day by heading over to the Hard Rock Cafe for dinner. Yes, it's ridiculously over-priced and the definition of a tourist trap, but I was just in the mood I guess. I did it for the sake of saying I went and picked up some HR swag at the end to seal the deal. Food was very good… not the best I've had so far on the trip, but tasty. Honestly, for the prices you pay at the Hard Rock you can have a good three meals elsewhere at other local spots with just as good (perhaps even better?) food. But for the experience, sometimes you just have to crack open the wallet and embrace the tourism around you. I mean, I can now say that I ate macaroni & cheese next to Mick Jagger's pants. That's worth it… uhh… right?
Aaaaanyway, I should wrap this up. Packy is snoring peacefully beside me in bed and we have a full Thursday coming up. To preview the big event? Those of you who listen to NPR, keep your ears peeled during "Wait, Wait… Don't Tell Me" this Saturday. Pack and I will be in the audience at tomorrow's taping!