Q & A
Q: What the heck is PacKay?
A: It's our portmanteau couple name, one that Kay came up with shortly after we started dating.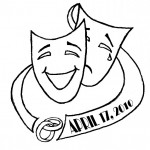 Q: Why are the invitations and the website BLACK? Why is your logo one smiling face and one weeping face?  Why aren't both of you happy?  Does one of you not want to get married?

A: We're theater people, duh. Black, white and red are theatrical colors, and the masks represent the duality of comedy and tragedy in the performing arts. (yes, we've actually been asked this question)
Q: Why aren't there any meal options in the RSVP material?
A: We'll be serving a buffet meal at our afternoon reception, so people will be able to decide what they want to eat just before they have to eat it, not weeks in advance.
Q: Will there be an open or cash bar at the reception?
A: There won't be any bar at the reception.  Since we're holding our reception in the church hall, we'll be honoring their request for no alcohol at our reception.  However, we trust that our reception will be so much fun, people won't even notice there isn't any booze.
Q: I heard a rumor that there won't be any dancing at the reception!
A: You heard wrong! There will be plenty of dancing at the reception… it's just that most of the guests won't be doing it. Since Kay and Packy are both theater people, we're having a "Wedding Cabaret" and we're inviting our theater and musician friends to, as their gift to us, perform something on our little stage at the reception. The two of us will be the first act, performing our first "Song and Dance" as a couple!
Q: Is this wedding "kid safe" or "adults only"?
A: Our reception is completely family-friendly, unless you want to shield your children from the horrifying influences of musical theatre, jazz, blues or folk.
Q: How does this "honeymoon registry" work?
A: Kay wrote a blog post about this very topic.